Dainik Bhaskar Alwar Newspaper Advertisement Online Booking
Dainik Bhaskar Alwar Newspaper Advertisement Online Booking
---
Alwar

AD BOOKING
---
No.1 Hindi daily

Circulation over 2.9m
37 editions across 12 states
Economical ad rates
Select Your Ad Format :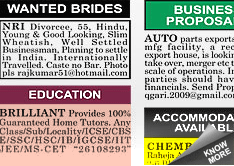 Simple text format of advertisements charged on the basis of the number of words, lines or characters used in the ad matter. Enhancements like a tick, border, color, and bold fonts can be used in this pocket-friendly and economical form of advertisement.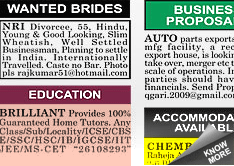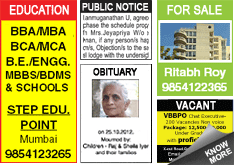 A better way to exhibit advertisements in newspapers which include catchy graphics, image, logo, colour, fancy font making ads more visible to the readers. This great way of advertisement that helps the advertisers to grab the attention of the target audiences is changed on the basis of per sq.cm unit.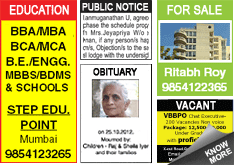 ---
Select Your Category For Dainik Bhaskar Classifieds below :
SELECT AD CATEGORY
---
Want to advertise in specific Dainik Bhaskar Alwar Supplements ?
SELECT A NEWSPAPER SECTION TO ADVERTISE IN
---
---
Alwar Edition covers the following areas:
EDITION COVERAGE
---
Ajmer
Alwar
Bansur
Barmer
Behror
Karauli
Kathumar
Kota
Kotkasim
Malakhera
Mundawar
Neemrana
Reni
Thanagazi
Tijara
Advertisement Section
Publishing Days
Booking Deadline
Dainik Bhaskar Alwar
All Days
2 day(s) Prior
Ad Categories: Matrimonial, Property, Recruitment, Public Notice, Obituary, Education etc.
Customer Reviews
ADVERTISERS REVIEWS
---
Frequently Asked Questions
FAQ
---
Why advertise in Dainik Bhaskar Alwar
WHY ADVERTISE AD IN
Dainik Bhaskar Alwar

?
---
Why choose releaseMyAd for booking Dainik Bhaskar classifieds in Alwar?
During the Mahabharata era, Alwar was known as Viratnagar. Today, this Alwar in Rajasthan is a part of the National Capital Region. Several industries like automobiles, ceramics and cold drink manufacturing plants dot its vicinity. A steep increase in Alwar's population has led local businesses to begin advertising. One of the surest ways to reach your target audiences at low cost is through classified ads in newspapers. These influence the target audiences more, as they can be repeated often because of the low costs.
releaseMyAd is an INS accredited ad agency in Alwar. Classifieds are the most sought-after low-cost advertising spots in any newspaper. releaseMyAd helps advertisers to book classified ads in top newspapers of Alwar.
Local advertisers favour releaseMyAd due to the following benefits:
Booking classified ad in leading newspapers is easy with our 3 step online ad booking process.
With releaseMyAd in Alwar, you can book ads 24*7.
There are several online and offline payment options with releaseMyAd. All payments made on our website are secured by SSL encryption to keep out unwanted third parties.
Dainik Bhaskar Newspaper Classified Advertisements in Alwar Now!
View Dainik Bhaskar Ad Rates for Alwar:
ADVERTISEMENT RATE
---
| S. No | Ad Section | Publishing Days | Ad Rate Starting From | |
| --- | --- | --- | --- | --- |