Welcome to Dainik Bhaskar Newspaper Ad Booking Portal. Use this portal to book any Newspaper Ad instantly online for Matrimonial, Property, Recruitment, Public Notice at the lowest rates. Pay via Credit Cards, Debit Cards, UPI, Net Banking or Cheque.
Dainik Bhaskar, owned by the largest print-media company, DB Corp, is the second most circulated newspaper in India. Its excellent reporting about both national and international matters has earned it a huge readership figure. It is currently published across 14 Indian states and has nearly 63 editions. Dainik Bhaskar's reasonable advertising rates have also made it a popular choice among advertisers.
Worried about getting contacts, rates, deadlines and manual booking procedures for your Dainik Bhaskar classified ads? Your search ends here- Now you can book Dainik Bhaskar newspaper classified text and display ads via releaseMyAd - India's largest newspaper ad booking portal. Just 3 simple steps and your ad is booked for the scheduled date.You can avail the best rates and discount packages for your Dainik Bhaskar classified ads only at releaseMyAd. Get started !
---
Ad Formats In Dainik Bhaskar :
Ad Type
---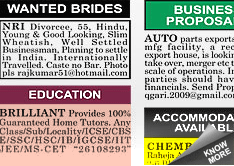 There are two types of classified ad such as Classified Text Ad and Classified Display Ad. Classified Text Ad is the most cost-effective forms of advertising in any Newspaper. The Ads appear in the classified section in the standard running text format. Rate is charged per Line/Word/Character basis. Enhancements like tick mark, colour, bold font, border lead to extra charges. Classified Display Ad is more visually appealing than classified text ads. Here one can add customized font, colour, logo or image to make the ad visually more effective for the target readers. These ads are charged on the basis of per sq.
Display advertisements are the most extravagant form of newspaper advertising. They can be published on any page and can occupy any amount of space in a specific newspaper page.
---
Select The Dainik Bhaskar Supplement To Advertise Under:
AD SECTIONS
---
---
Dainik Bhaskar Ad Booking Centers :
LOCATIONS
---
Why advertise in Dainik Bhaskar Newspaper ?
---
WHY ADVERTISE IN
Dainik Bhaskar

NEWSPAPER?
---
Owned by the largest print media company, DB Corp Ltd., Dainik Bhaskar is the second-most circulated newspaper with a huge readership throughout India. It is one of the most preferred choices of advertisers for placing advertisements because of the following reasons:
Dainik Bhaskar has a daily circulation of 4,146,737.
It has established its presence in 14 states across India, with its headquarters in Bhopal.
Dainik Bhaskar has a total of 63 editions – Hindi, English, Marathi, Gujarati, to name a few.
It has a strong readership in the states of Madhya Pradesh, Uttar Pradesh, Chattisgarh, Rajasthan, Haryana, Punjab, Bihar, Jharkhand, Chandigarh, Himachal Pradesh, Uttarakhand, J&K, and New Delhi.
High standard of reporting in both national and international matters has earned Dainik Bhaskar a great reputation.
Cost of advertising is relatively low.
You can easily book ads in Dainik Bhaskar Newspaper through releaseMyAd, and also avail special discounts.The authorized advertising schedules of top newspapers such as Dainik Bhaskar have been incorporated in our system to ensure seamless booking of ads on specified dates and to avoid confusion.
View Dainik Bhaskar Ad Rates for :
ADVERTISEMENT RATE
---
---
How To Book An Ad Dainik Bhaskar Newspaper?
---
HOW TO BOOK AD IN
Dainik Bhaskar

NEWSPAPER?
---
Advertisers can opt for any of the following ad formats as per their budget and requirement:
Classified Text Ad: This is the most cost-effective format. The number of lines used in the ad determines the cost. Should the advertiser require, the message can be made to stand out using tools such as font, colours, background, at a little extra cost.
Classified Display Ad: This is similar to Classified Text, but is enhanced using images/logos. Use of image/graphics increases the cost slightly but draws attention among the clutter. The cost is generally determined on the basis of size (per sq. cm.).
Display Ad: Display ads draw maximum attention, mostly because they are large in size – full page, half page and so on. They involve both texts and images and are drafted using plenty of creative elements. Size (per sq. cm.) of the ad usually determines the cost.
releaseMyAd is a registered partner of Dainik Bhaskar. We provide you a hassle-free procedure for booking ads:
Select the newspaper – Dainik Bhaskar
Choose the ad type – Classified Text/Classified Display/Display
Choose a location where you want the ad to be published, for example, Indore, Chandigarh, Jaipur, etc.
Choose the category under which you want to post the ad - matrimonial, recruitment, business, etc.
Compose the ad. For Classified Display/Display, should you require, our design team can assist you.
Select a date when you want the ad to be published, and clear the payment through Credit/Debit Card. You will receive a confirmation message once booking is done.
With full authorization from Dainik Bhaskar, releaseMyAd provides you with an integrated platform by means of which you can get access to the lowest advertising rates, circulation details, discount prices, and also book your ads in a process which is 100% online!
You can find the answers to your questions in the frequently asked questions tab above.