Dainik Bhaskar Newspaper Ad Options
No.1 Hindi daily

Circulation over 2.9m
37 editions across 12 states
Economical ad rates
No.1 Hindi daily

Circulation over 2.9m
37 editions across 12 states
Economical ad rates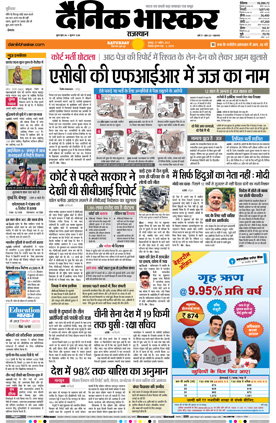 Category :
Main Newspaper
Publishing Day :
All Days
Dainik Bhaskar is a Hindi-language daily newspaper of India. It started in 1958 from Bhopal, capital of Madhya Pradesh. Currently it is published from many cities of North India. Book classifieds in Dainik Bhaskar newspaper to reach out to a vast number of Hindi readers.
Dainik Bhaskar is an Indian Hindi-language daily newspaper published by D B Corp Ltd. It was started in year 1958 from Bhopal, the capital city of Madhya Pradesh. Dainik Bhasker publishes from 11 states with 31 editions. Dainik Bhaskar, (in Hindi), Divya Bhaskar and Saurashtra Samachar, (In Gujarati), have a combined average daily readership of 17.5 million readers with presence in Madhya Pradesh, Chattisgarh, Rajasthan, Haryana, Punjab, Chandigarh, Himachal Pradesh, Uttrakhand, Delhi, Gujarat and Maharashtra. Our other newspapers are Business Bhaskar, DB Gold and DB Star and, on a franchisee basis, DNA (in Gujarat and Rajasthan).
---
CLASSIFIED
---
Category :
Classifieds Supplement
Publishing Day :
All Days
Dainik Bhaskar Classified Ads is cost effective and ideal platform to advertise on for Matrimonial,Property,Obituary, Recruitment, Education,etc type customers. Ad cost is calculated based on the number of lines used.
Category :
Appointment
Publishing Day :
All Days
The best guide for all job seekers & recruiters in 14 states with 63 editions in Hindi, English, Marathi and Gujarati for Dainik Bhaskar Appointment Newspaper pullout. Reach out to prospective candidates as the appropriate recruiter with the help of this pullout!!
Category :
Others
Publishing Day :
All Days
City Bhaskar is a city pullout of Dainik Bhaskar. City Bhaskar is a special pullout of Dainik Bhaskar which deals with interesting contents with the good life of the city with special focus on city's happenings and leisure reading. The contents of the special pullout mainly deals with the city highlights, cultural and social milieu, including entertainment news and events. The pullout will be available for 6 days a week along with the main issue and it offers a special vehicle to reach a specific audience. City Bhaskar captures the essence of each city and connects strongly with the readers.
Category :
Court Notice
Publishing Day :
All Days
Category :
Obituary
Publishing Day :
All Days
Publish dedications and remembrances to your loved ones who have passed on to the other world in your own State. The Obituary pullout of Dainik Bhaskar is the most widely circulated one of the state. Invite extended family members and close ones at the funeral and condolence meetings of your near and dear ones through obituary display advertisements in Dainik Bhaskar Newspaper.
Category :
Tenders
Publishing Day :
All Days
Category :
Public Notice
Publishing Day :
All Days
For all regional notices and tenders as well as announcements in 14 states with 63 editions in Hindi, English, Marathi and Gujarati & to reach out to the most relevant and specific audience, publish your Public Notice Ads & Tender Ads in the Dainik Bhaskar Public Notice & Tenders pullout!!
Why advertise in Dainik Bhaskar ?
WHY ADVERTISE?
---
Display advertisements are the most expensive in the newspaper ad category. This is because they occupy quite a large amount of area (quarter page, full page), depending on the advertiser's budget. Despite the cost, display ads stand out from the rest and grab immediate attention. These ads often leave a significant impact on the readers' mind, given that they are well-designed using attractive texts and visuals. Dainik Bhaskar is one of the best newspapers for placing display ads because:
Among the most-read newspaper list, Dainik Bhaskar ranks second.
Its' crisp quality content attracts growing number of readers, thereby, allowing advertisers to cater to a large group of audience.
It has a daily circulation of 4,146,737 in 14 states across India.
Although display ad rates are toward the higher end, Dainik Bhaskar offers relatively economical rates when booking through releaseMyAd.
releaseMyAd is a registered online ad booking agent of Dainik Bhaskar.
View Dainik Bhaskar Ad Rates
View Dainik Bhaskar Ad Rates
---
Dainik Bhaskar Ad Booking Process
BOOKING PROCESS
---
Special discounts and offers can be availed while booking display ads in Dainik Bhaskar newspaper through releaseMyAd. Follow the steps mentioned below:
Choose a newspaper – Dainik Bhaskar.
Choose the Ad Type – 'Book Display Ad'.
Choose a Category – Appointment, Obituary.
Choose a Location – Chandigarh, Delhi, Amritsar.
Choose the size of the ad – half page, full page. You could also settle for innovative options like jacket, pointers, etc. Custom-size options are also available.
Post specification, you can view the advertising rate. You can further negotiate on the given rate by choosing 'Start Media Negotiation'. You simply need to fill in your contact details. Our executives shall then connect with you.
Once the price is decided upon, you can upload your ad design in JPEG/TIFF/PDF format and compose the final layout using the existing templates. Our design team is available for additional help.
Choose a date for the display ad to be published and clear the payment via online mode (Credit/Debit Card) or offline mode. Once the payment is made, you shall receive immediate confirmation of your booking.
Please note, booking for Display Advertisement in Dainik Bhaskar newspaper must be done 3 days prior to publishing.