Dainik Bhaskar Banswara Advertisement Booking Online at Lowest Rates:
Select Your Ad Format :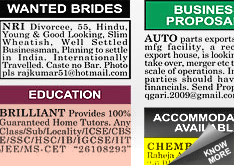 Economical, Simple Text. Charges per line/ word. Can be enhanced with Tick, Border & Bold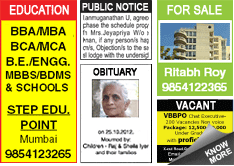 More Visible & Expensive. Include image, colour,font variations. Rate is charged on per sq.cm basis.
Dainik Bhaskar offers you several categories in which you can place ads. The most popular ones are matrimony, recruitment, business, property, obituary, announcement, public notices, services and education. These categories are mostly used for booking ads in Dainik Bhaskar. But releaseMyAd ...
Thanks for writing us! Well, you can check the advertising rates of Dainik Bhaskar from our ad booking site. Our portal allows you to book the ad and it calculates the total advertising cost including the newspaper cost, edition, category and format charges. The ad rates in Dainik Bhaskar starts ...
Change of name ads need to be published in at least 2 newspapers which have local editions, under the Announcement section, which is the main category. In order to book your ad in Jamshedpur in Dainik Bhaskar, please visit the Dainik Bhaskar Announcement Ad Rates, review the rates and packages, c...
Dainik Bhaskar Banswara Classified booking Center
ReleaseMyAd Media Pvt.Ltd
80-B Subhash Nagar, Collage Road,, Banswara, Rajasthan, 327001
Book an Ad
Additional Information
About releaseMyAd
Book an Ad
Banswara was a princely state in modern Rajasthan before independence. It joined the Indian democracy after 1947. The government has taken up several projects to develop Banswara. Classified ads are quite a fashion in Banswara. releaseMyAd with its online ad booking portal is a popular ad agency in Banswara.
releaseMyAd has made classified ad booking very simple with its 3 step booking process:
Select Ad Type and Ad Category: With releaseMyAd, you can book classifieds in top newspapers of Banswara. Simply select your ad type and ad category at the start.
Compose Ad: To continue with the ad booking process compose your ad at this stage. Add accompaniments to make them more attractive at this stage.
Select Dates and Make Payments: To finish your ad booking process with us select your ad release dates and make payments.
Additional Information
Why choose releaseMyAd for booking Dainik Bhaskar classifieds in Banswara?
Banswara is a district in southern Rajasthan with its headquarters carrying the same name. The economy of Banswara is completely dependent on Tourism. With lots of ancient monuments and relics, Banswara has no dearth of tourists. There are several upcoming government and private projects slated to provide employment. Print journalism remains a popular medium here. Many Hindi and English newspapers are circulated in Banswara. Advertisers take advantage of this and use classified ads to promote their brands in the Banswara.
releaseMyAd is a prominent ad agency in Banswara. Booking classifieds in Banswara newspapers with releaseMyAd serves the following benefits to advertisers in Banswara:
Guaranteed low ad rates for Banswara
Get excellent customer support and professional assistance for all your advertising needs.
Instantly book ads on our website and avoid paying agents and middlemen.
Book Dainik Bhaskar Advertisement in Banswara Instantly!
About releaseMyAd
releaseMyAd is India's simplest classified booking service! Through our service you can book classified Ads for all leading Indian Newspapers – at no extra charges!
We are fully accredited by the Indian Newspaper Society (I.N.S.) - the primary governing body for all media publications. Furthermore, we have exclusive tie-ups with newspapers that enable you to release ads at the same cost as the newspaper in addition to enjoying special discounts!
You can book your Newspaper Ad instantly for any category such as Matrimonial, Property, Recruitment, Automobile, Travel etc. We accept both online and offline payments for advertisement bookings. Online payment options include Credit/Debit Cards & Net Banking (All Indian Banks), and offline options include Demand Drafts, Cheques and cash payments.
Contact us at:
questions@releasemyad.com
+91 33 4031 1111 (24 hours, Monday-Sunday, Standard STD/Local charges apply)